Products
Reinforcing Steel Bar Support
Also known as the erection of Stoll, metal pad, stool, metal horse stool, reinforcing steel bar stool.
Materials: Low carbon steel (Q235), medium carbon steel and other materials.
Features: Strong, good stability
Use: Our steel bar support adopts the new technology, which is mainly used for building and infrastructure engineering, underground works or bridge, and other large bearing parts of reinforced fastening, large building industry-layer or multi-layer steel connection.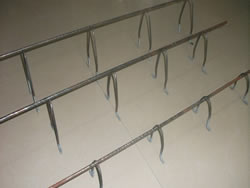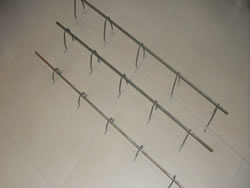 Reinforcing Specification of Steel Bar Support
| | | |
| --- | --- | --- |
| Size(mm) | Diameter(mm ) | Weight(gram) |
| H-30 | 4.0mm | 31 |
| H-40 | 4.0mm | 33 |
| H-50 | 4.5mm | 38 |
| H-60 | 4.5mm | 45 |
| H-70 | 4.5mm | 52? |
| H-80 | 4.5mm | 57 |
| H-90 | 4.5mm | 62? |
| H-100 | 4.5mm | 71? |
| H-110 | 5.0mm | 92 |
| H-120 | 5.0mm | 97? |
| H-130 | 5.0mm | 100? |
| H-140 | 5.5mm? | 139 |
| H-150 | 5.5mm? | 149 |
| H-160 | 5.5mm? | 158 |